By Brian Hill, Fort Leonard Wood Public Affairs Office
FORT LEONARD WOOD, Mo. (Nov. 9, 2023) — Drill sergeants and cadre with Fort Leonard Wood's 2nd Battalion, 10th Infantry Regiment, volunteered time Saturday morning to host a modified Army Combat Fitness Test and team-building event at Shea Gym with Wood Elementary School fifth graders enrolled in their school's fitness club.
According to Master Sgt. Darnel Chestnut, 2-10's NCO in charge of operations, the students were given the opportunity to try ACFT events, such as the sprint-drag-carry, ball toss and kettle-bell squats, before splitting into teams to solve memorization puzzles and perform mock life-saving procedures with a litter and bandages.
The goal of each event, Chestnut said, was to allow the children to demonstrate physical and mental toughness, while also showing them the benefits of fitness.
"This is definitely a pivotal point in their lives and a good time to show them the importance of physical fitness," Chestnut said.
The nine children who attended the event are all enrolled in a two-week, after-school activity club centered around physical and mental health and fitness — Saturday with the Soldiers of 2-10 was the culminating event, said Kelly Caffey, a Wood Elementary School counselor and the facilitator of the club.
"They work out after school, and we've built up to being able to be here today," Caffey said. "We run; we do some sort of activity, like, yoga; then, we do a sport activity — volleyball, basketball — we do an obstacle course outside on our playground. We do lots of sit ups and push ups and squats and planks and lunges and things like that. We are just teaching fitness to kids and trying to get them encouraged to do other things. So, we talk about all the things they can do as grownups. We talk about how they can use this in their everyday lives and how mental health correlates with physical activity."
One of the students participating Saturday was Miloh Higgins, who called the event "amazing."
"I'm so happy I got to be a part of this," he said, noting his favorite part of the morning was showing off his planking skills (he planked for more than three minutes). "I work out with my dad. He's a Marine here. He trains me. I put his big vest on and do push ups, jumping jacks."
Higgins said the fitness club is great for building confidence and self-esteem — things he said he will need for his future career in the military.
"I want to join the Marine Corps, but if I can't, I think I'd enjoy the Army," he said.
Cheering on his daughter, Vanessa, at the event was Sgt. 1st Class Joe Lynch, a platoon sergeant with the 5th Engineer Battalion. Lynch said he was excited to see her "get out here and do what we do."
"It's a modified version of what we do for our fitness test," he said of the ACFT events. "When my wife told me (Vanessa) was going to be participating, I jumped to get on this and come watch her. It gives her just some of the experience of what we do, and I think it's amazing. I'm just glad to be here to support her."
Caffey said two more fitness events with 2-10 are scheduled for later this year for other students in the fitness club, and she thanked the Soldiers for their time.
"It's a great support," she said. "It's a great mentoring situation, where (the students) have all these adults to look up to, who are doing great things for our community, our families and our country."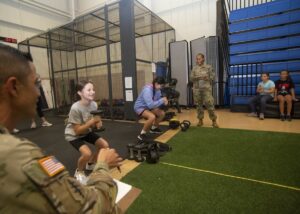 -30-
About Fort Leonard Wood
Fort Leonard Wood is a thriving and prosperous installation that has evolved from a small basic training post 80 years ago to a premier Army Center of Excellence that trains nearly 80,000 military and civilians each year.
Fort Leonard Wood is home to the U.S Army Maneuver Support Center of Excellence and three U.S. Army schools: the U.S. Army Engineer School; U.S. Army Chemical, Biological, Radiological and Nuclear School; and the U.S. Army Military Police School. In addition to training engineer, CBRN and military police specialties for the Army, Fort Leonard Wood also provides gender-integrated in-processing and Basic Combat Training for new Soldiers.
Fort Leonard Wood also hosts and trains with the largest Marine Corps Detachment and Air Force Squadron on any Army installation as well as a large Navy construction detachment.