Brian Hill
FORT LEONARD WOOD, Mo. (April 21, 2021) — Training units here continuously look for ways to create more effective experiences for the Army's newest Soldiers, preparing them for the roles they'll each play across the force.
For the combat engineer and bridge crewmember trainees set to graduate Friday from One Station Unit Training with Company A, 35th Engineer Battalion, that meant a memorable final week demonstrating their new skills via a field training exercise, a ruck march and an Army engineer cresting ceremony.
The week began with the 89 trainees of Alpha Company flying high above Fort Leonard Wood in CH-47 Chinook helicopters. The air support arrived from New Century, Kansas, where they're assigned to Company B, 7th Battalion, 158th Aviation Regiment, an Army Reserve unit who provides assistance here when available.
"(The FTX) is the culminating event for their entire OSUT," said Sgt. 1st Class Brett Davis, Alpha Company's senior drill sergeant. "We test them on everything they've learned, and they get to apply that in the field and see the results of all their training in one event. Resources play a factor, but we always try to make improvements — dress it up a little more when we can. There's a base we use, but we do tweak it every cycle."
After disembarking from the helicopters, the trainees secured their landing zone near Training Area 250.
They then moved to the lake at TA 250, where the bridge crewmember trainees constructed a float bridge while the two Chinooks circled the area overhead. Humvees equipped with smoke machines drove around the shoreline, filling the area with smoke to add another element to the experience of moving across the water.
Once they reached the other side of the lake, the combat engineer trainees secured their resupply point. The morning concluded with the helicopters parachuting down Meals Ready to Eat, or MREs.
According to Spc. Stacy Weaver, a combat engineer trainee from Tampa, Florida, the drill sergeants and cadre worked "extra hard" to ensure Alpha Company received the best, most realistic training possible.
"They didn't have to bring out Chinooks and fly us to our FTX," she said. "They didn't have to stay long, extra hours to teach us things beyond just the basic-training knowledge. They really set us up to be a step ahead when we get to our new units."
"I think being a good Soldier means understanding your leaders' roles as well as your own and how you can best support them," she added. "I think our cadre have done an excellent job at preparing us and giving us that knowledge and experience to make us successful in the future."
After resupply, the trainees received their follow-on mission for the remainder of the FTX: assaulting and occupying an objective.
"This cycle, we conducted more of a (Army Forces Command)-oriented exercise, where we had 24 hours of offense, 24 hours of defense and then sustainment efforts," Davis said. "We wanted to give them the full picture of what they'll be doing in the fighting force."
For Pvt. T.J. Zebarth, another combat engineer trainee from Superior, Wisconsin, the FTX was "a really cool experience."
"You eventually learn how to work together as a team," he said. "It's exciting when it comes together."
After completion of the FTX, the trainees were given the chance to experience "the Sapper 12" during a ruck march.
"It's one of the most demanding 12-mile courses the Army has to offer," Davis said. "We put them to the test to see what they've really got."
Davis said "four or five" of the trainees completed it in under three hours, which is the goal at the Sapper Leader Course, where Soldiers attempt to become Sappers — commonly referred to as the Army's elite combat engineers.
The morning after their ruck march, the trainees were officially welcomed into the Army Engineer Regiment with a cresting ceremony at Sapper Memorial Grove, where a drill sergeant pinned a regimental crest to the uniform of each new Soldier.
"This is us welcoming them into the regiment," Davis said.
Zebarth, who completed the ruck march in 2 hours, 50 minutes, said he now feels "like a combat engineer."
"My feet hurt," he said, "but I feel honored."
Weaver said every experience she has had in the Army so far has been "brand new and very exciting."
"I came to the Army wanting to gain more leadership experience and get out of my comfort zone, and they've absolutely done that for me," she said.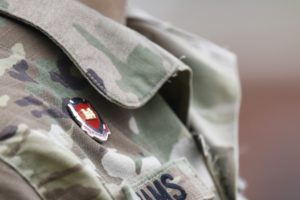 -30-
About Fort Leonard Wood
Fort Leonard Wood is a thriving and prosperous installation that has evolved from a small basic training post more than 75 years ago to a premier Army Center of Excellence that trains more than 80,000 military and civilians each year.
Fort Leonard Wood is home to the U.S Army Maneuver Support Center of Excellence and three U.S. Army schools: the U.S. Army Engineer School; U.S. Army Chemical, Biological, Radiological and Nuclear School; and the U.S. Army Military Police School. In addition to training engineer, CBRN and military police specialties for the Army, Fort Leonard Wood also provides gender-integrated in-processing and Basic Combat Training for new Soldiers.
Fort Leonard Wood also hosts and trains with the largest Marine Corps Detachment and Air Force Squadron on any Army installation as well as a large Navy construction detachment.
More information about Fort Leonard Wood is at: https://home.army.mil/wood/index.php/about/mission