Brian Hill
FORT LEONARD WOOD, Mo. (Oct. 8, 2020) — Nearly 200 trainees assigned to Company D, 31st Engineer Battalion, stood outside their barracks in the early dawn hours of a chilly Friday morning last week. Instead of the bag drills and shouting that usually happens early in Basic Combat Training, Sgt. 1st Class Dustin Ferguson, the company's senior drill sergeant, calmly and succinctly explained the role of a combat engineer — the 12B military occupational specialty those trainees hoped to obtain in the near future upon successful completion of One Station Unit Training here.
"You will be the cutting edge of our country's sword," Ferguson said. "The skills you will possess by the end of your training are paramount to the success of our Army as a whole. As combat engineers you will, without hesitation or self-doubt, move violently 'into the breach.'"
While Ferguson explained that phrase, the trainees watched as a squad of drill sergeants demonstrated a wire obstacle breach and attacked an enemy fighting position.
"'Into the Breach' is not just a term that you must know and love — it is a way of life for all combat engineers past and present," Ferguson said. "Make no mistake about it, there is nothing pleasant about the breach. It's often times full of chaos, mayhem, pain and suffering. However, for combat engineers, it is home."
Ferguson described the important role combat engineers have played in infiltrating enemy lines and winning the nation's wars.
"During World War II, combat engineers were of the first Soldiers to land on the beaches of Normandy on D-Day — June 6, 1944," he said. "During the assault, the entire beach was covered with obstacles. A unit of combat engineers — also referred to as Sappers — had gone ahead into the breach to find where enemy mines were located. They were tasked to clear them from the battlefield while under heavy machine gun fire and mortars landing all around. They moved in pairs, if one Sapper went down his partner picked up his equipment and kept moving into battle … you could see the Sappers pulling themselves up the hillside even after their legs had been shattered by explosions."
According to Company D Commander Capt. Jon Molnar, the trainees were being shown some of the skills they will learn — but more importantly: who they will become.
"We're demonstrating those combat engineer skills," Molnar said. "We're basically showing them, 'this is what you're going to be able to do.'"
Following the demonstration, the trainees worked in groups to accomplish tasks related to what they had just witnessed, such as low crawling, casualty movement and building a fighting position with sand bags.
According to Molnar, the event — which is called "Into the Breach" — is modified from the new reception and integration concept to which the Army is transitioning. It replaces what was commonly referred to as "shark attacks."
"We are tailoring it to engineer-specific skills," Molnar added. "The goal is to foster teamwork, communication and leadership skills while still putting the trainees in a stressful, physically demanding and time-constrained environment."
Staff Sgt. Tucker Powers, a drill sergeant assigned to Company D, was tasked with planning the events for the company. He said the goal was simple.
"It gives us purpose," he said. "Right off the bat, the trainees get to see a demonstration of what they are hoping to achieve, and they get a little taste of what it's going to take to get there. Our whole basis was that we wanted to give them something to strive for and have them attempt it. Every situation was mission based: there was a scenario laid out for them — 'here's what happened and now you have to execute.'"
Pfc. Max Morris, a trainee assigned to 1st Platoon, said he thought the event was "a real eye opener."
"This is what we signed up for," he said. "It was a good opportunity for us to think quick, think on our feet and develop our attention to detail. It was also good to see where we're at physically — how much improvement is needed."
Another 1st Platoon trainee, Pfc. Jeffrey Davids, has some perspective on the changes the Army is making. He graduated from OSUT once before while assigned to Company D, 35th Engineer Battalion, in 2005. After separating from military service more than 10 years ago, he reenlisted and finds himself back in basic training again.
"I tackled the civilian world — opened up a couple of businesses — and then found I had more to give, and here I am for a second time," he said.
While sweat dripped from the bill of his cover, Davids said "Into the Breach" felt more purposeful than the "shark attack" as he remembered it.
"I feel like this really geared us up," he said.
Molnar said more than simply providing a goal for the trainees, "Into the Breach" is the framework for a philosophy of mutual respect between the teachers and students.
"It promotes an attitude of trust, dignity and respect between the drill sergeants and the trainees," he said. "It's a teach-coach-mentor attitude — they need to work as a team to complete their collective tasks."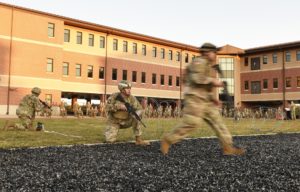 -30-
About Fort Leonard Wood
Fort Leonard Wood is a thriving and prosperous installation that has evolved from a small basic training post more than 75 years ago to a premier Army Center of Excellence that trains more than 80,000 military and civilians each year.
Fort Leonard Wood is home to the U.S Army Maneuver Support Center of Excellence and three U.S. Army schools: the U.S. Army Engineer School; U.S. Army Chemical, Biological, Radiological and Nuclear School; and the U.S. Army Military Police School. In addition to training engineer, CBRN and military police specialties for the Army, Fort Leonard Wood also provides gender-integrated in-processing and Basic Combat Training for new Soldiers.
Fort Leonard Wood also hosts and trains with the largest Marine Corps Detachment and Air Force Squadron on any Army installation as well as a large Navy construction detachment.
More information about Fort Leonard Wood is at: https://home.army.mil/wood/index.php/about/mission