Brian Hill
FORT LEONARD WOOD, Mo. (Sept. 22, 2021) Nearly 100 ROTC cadets from the nine Missouri universities that make up the Army's Gateway Battalion converged on Fort Leonard Wood Sept. 17 to 19 for their annual fall field training exercise.
The battalion is made up of cadets from Washington University, St. Louis University, Lindenwood University, University of Missouri-St. Louis, Fontbonne University, Missouri Baptist University, Harris Stowe State University, Maryville University and Webster University.
Throughout the three-day event, the cadets faced challenges, such as the physical endurance course, the confidence course, and day and night land navigation. They also conducted live-fire training at Range 22 and rappel training on the Warrior Tower at Training Area 136.
The fall FTX is focused on giving the first-year cadets — commonly referred to by their rank as MSIs, for Military Science One — a feel for being in a field environment, said MSIV Cadet Mariateresa Simon, a senior at St. Louis University, who is completing a nursing degree.
Simon said the FTX is a chance to also promote bonding between the newest ROTC cadets.
"I will never forget how my first fall FTX really built the foundation of my ROTC friendships," she said.
Additionally, the FTX provided the MSIIs — sophomores, or second-year cadets — with a chance to take on small leadership roles and learn about the responsibilities within those positions, and the MSIIIs — juniors, or third-year cadets — to take on higher leadership roles; the MSIIIs are graded throughout the FTX on their leadership skills and tactical knowledge, Simon said. The MSIVs are tasked with ensuring the FTX runs smoothly, as well as providing assessments of the MSIIIs.
Cadet Brooke Payne, from Louisville, Kentucky, is a freshman at St. Louis University, who wants to join the Army Medical Corps after graduation. She called her first ROTC FTX empowering.
"I loved it — it was a great experience, really empowering," Payne said. "I've been an athlete my entire life, and this is as close a team as I've ever had. I appreciate how everyone here is really hardworking and they all have great integrity."
Payne said the highlight of the weekend was completing the confidence course.
"Not only were the obstacles a lot of fun, but they were also extremely challenging," she said. "For one of the obstacles, we had to balance on logs that were, like, 8 or 9 feet in the air, and that was really scary for me, but I still did it. Plus, just the overall morale and the team bonding with the other cadets was amazing. You would never have to experience something like having to push someone over a 12-foot wall anywhere in the civilian world."
The physical training and lack of sleep were tough, Payne added, but getting to train on an Army installation outweighed the exhaustion.
"It's very different than just being back at our university, doing PT at 6 in the morning," she said. "We definitely don't get to see all this every day — just seeing Humvees driving down the street."
For Cadet Liam Mulkerin, a Los Angeles-area native attending Washington University, and one of the MSIIIs here for the FTX, having the additional responsibilities that come with being a third-year cadet "added a new dimension to it."
"It's definitely very fun in a challenging way," he said. "The threes have been out doing patrol bases at night, so getting a lot less sleep than normal."
Mulkerin, who participated in one previous fall FTX here, said Fort Leonard Wood's facilities provide "an awesome test."
"We love the obstacle course, the leadership course — we had so much fun doing the PECS course and the rappel tower," he said. "The fact that we get to use all this stuff is awesome."
The Professor of Military Science for the Gateway Battalion at Washington University, Lt. Col. Andrew Betson, said Fort Leonard Wood's proximity, resources and support make it possible to effectively train ROTC cadets.
"It's an easy trip coming from the Metro St. Louis area, and affords us the land and ranges to complete our individual and collective training tasks," he said.
Betson added that the Initial Entry Training mission here also provides the cadets with a unique exposure to the Soldiers they will soon lead.
"It is hard to describe their reaction to the trainees and their drills," he said. "The pride and sense of responsibility is palpable."
The Gateway Battalion is scheduled to return to Fort Leonard Wood next year for their spring FTX, Simon said, which helps prepare the MSIIIs for what's called Advanced Camp — a major summer training event all cadets must pass before they can commission as an officer after college graduation.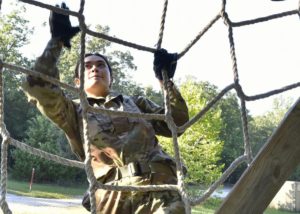 -30-
About Fort Leonard Wood
Fort Leonard Wood is a thriving and prosperous installation that has evolved from a small basic training post 80 years ago to a premier Army Center of Excellence that trains more than 80,000 military and civilians each year.
Fort Leonard Wood is home to the U.S Army Maneuver Support Center of Excellence and three U.S. Army schools: the U.S. Army Engineer School; U.S. Army Chemical, Biological, Radiological and Nuclear School; and the U.S. Army Military Police School. In addition to training engineer, CBRN and military police specialties for the Army, Fort Leonard Wood also provides gender-integrated in-processing and Basic Combat Training for new Soldiers.
Fort Leonard Wood also hosts and trains with the largest Marine Corps Detachment and Air Force Squadron on any Army installation as well as a large Navy construction detachment.
More information about Fort Leonard Wood is at: https://home.army.mil/wood/index.php/about/mission