FORT LEONARD WOOD, Mo. (Jan. 18, 2023) — Wildlife biologists with the Directorate of Public Works' Environmental Division and conservation agents from the Directorate of Emergency Services and the Missouri Department of Conservation took to the skies Jan. 4 to conduct the 2023 Midwinter Bald Eagle Survey along Pulaski County's waterways.
According to DPW Natural Resources Branch Chief Kenton Lohraff, Fort Leonard Wood has been assisting with the Pulaski County portion of the survey to contribute to the national effort and provide information about populations here since 1976. He said the survey is conducted in January for two primary reasons — eagles are migrating, and for consistency in trends.
"Each January, several hundred individuals from across the nation conduct eagle count surveys along standard, non-overlapping survey routes to provide trends in the overall national eagle population," added Jeff Pebworth, a wildlife biologist with the Natural Resources Branch.
With the help of Missouri's National Guard, the team soared just above the tree line in a Blackhawk UA-60 helicopter for most of the 2.5-hour flight that spanned 99 miles of the Gasconade River, 49 miles of the Big Piney River and approximately 26 miles of the lower Rubidoux Creek in Pulaski County to complete the survey.
"Bald eagles are generally concentrated around waterways," Pebworth said. "We are fortunate to have high-quality river systems in this part of the state and bordering the installation, but access to these systems is extremely limited from the ground. So, aerial surveys are much more time-efficient and provide much better coverage and visibility, allowing us to survey in a couple of hours that which could take several days from the ground."
In addition to adult and juvenile bald eagles, the team was on the lookout for golden eagles and various species of waterfowl, such as ducks and geese, Pebworth noted.
"Thirty-five bald eagles were counted in Pulaski County this year, within or adjacent to Fort Leonard Wood along the Gasconade River and Big Piney," Pebworth said. "We also noted 41 mallard ducks, 21 unidentified ducks and approximately 200 Canada geese."
Although no golden eagles were spotted this year, the number of bald eagles increased from 2022, which is a good sign, according to MDC Conservation Agent Nathan Ingle.
"With as many juveniles as we saw, I am optimistic that, if we have another mild year in weather, our specific Pulaski County totals will continue to increase in bald eagle population," he said.
Not only do the surveys provide the numbers needed to assess population growth, they help fulfil the Natural Resources Branch's responsibility to help protect and conserve wildlife and other natural resources. Surveys also help them decide if they need to take action, Pebworth said.
"We have responsibilities to manage species of concern as directed by the Sikes Act, the Fort Leonard Wood Integrated Resource Management Plan, and the Bald and Golden Eagle Protection Act," he said. "These surveys can also identify important habitats throughout their range and their status, provide information on local populations here on Fort Leonard Wood, and help us detect changes in the population, which in turn, directs when and if management is needed."
Conservation departments in each state work hard to protect the nation's bird, other raptors, and other protected species, Ingle said, and doing so is critical in continuing to ensure natural resources are available for future generations.
"We have seen in Missouri's history the impact that deforestation, market hunting and commercial fishing can have on our resources," he said. "Without conservation departments in place to regulate these resources, we would not have the opportunity to harvest game, catch fish or provide building materials, and many species of wildlife would simply go extinct."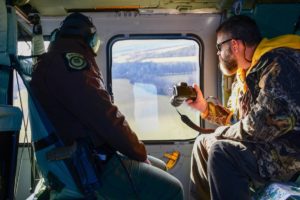 -30-
About Fort Leonard Wood
Fort Leonard Wood is a thriving and prosperous installation that has evolved from a small basic training post 80 years ago to a premier Army Center of Excellence that trains nearly 80,000 military and civilians each year.
Fort Leonard Wood is home to the U.S Army Maneuver Support Center of Excellence and three U.S. Army schools: the U.S. Army Engineer School; U.S. Army Chemical, Biological, Radiological and Nuclear School; and the U.S. Army Military Police School. In addition to training engineer, CBRN and military police specialties for the Army, Fort Leonard Wood also provides gender-integrated in-processing and Basic Combat Training for new Soldiers.
Fort Leonard Wood also hosts and trains with the largest Marine Corps Detachment and Air Force Squadron on any Army installation as well as a large Navy construction detachment.
More information about Fort Leonard Wood is at: https://home.army.mil/wood/index.php/about/mission.