Ryan Thompson
FORT LEONARD WOOD, Mo. (March 7, 2022) Fort Leonard Wood held its annual Kid's Trout Fishing Derby Feb. 26 at Stone Mill Spring Recreation Area.
First time and more experienced anglers, ages 15 and younger, endured below freezing temperatures as they got ready to cast their lines when the event began under sunny blue skies.
The derby — organized each year by the Directorate of Public Works' Natural Resources Branch and the Outdoor Adventure Center, in cooperation with the U.S. Forest Service and the Missouri Department of Conservation — gives families the opportunity to connect with the outdoors through fishing.
For retired Army Maj. Travis Cannon, an operational architect with the Capabilities, Development and Integration Directorate, and his 14-year-old daughter Shelby, Stone Mill Spring offered a place to make that connection — Shelby caught three fish at the derby.
"I like seeing the other animals while I'm fishing and I also like the calmness," Shelby said. "I've never been to the derby before, so I wanted to see what it was like and see if I could catch any fish. It was a lot of patience because we didn't catch anything in the beginning, but I'm happy we caught some right now because it is awesome."
Shelby's father said he sees value in getting his children involved in the outdoors.
"I think it's important to let them get the experience of catching fish and set the preverbal hook and get them excited about fishing," he said. "It's a good, wholesome activity for them to be involved in. It's fun to get out here with family and friends. It's a great event that is put on by the post and everyone involved. It's just well done."
Troy Creason, a military retiree who was out fishing with his son Connal, echoed Cannon's sentiment.
"I think it's good for the kids to learn how to fish," he said. "It's good to see all the other kids out here and them learning how to fish and having fun with their family."
Connal added that he was glad he attended the derby with his father.
"I'm glad we came because I caught four trout and I had lots of fun," he said.
According to Jason Brant, an aquatic biologist at DPW, the MDC stocked the spring with 500 rainbow trout prior to the event. He said a small number of fish were marked with special tags and anyone who caught one could choose a prize.
Tenley Nevins, daughter of Tom Nevins, an Air Force retiree and dependent, got to experience the excitement of landing one of the tagged fish.
"When I was at one of the spots, fish kept grabbing on and I was fighting, but they kept slipping off," she said.
Even though Tenley kept losing fish, she kept trying and finally her perseverance paid off.
"One of the fish had a tag on them and I got a fly-fishing pole as my prize. We come out here a lot in the summer; we like this place — we have luck here," Tenely said.
Nevins said he wasn't surprised that his daughter caught one of the tagged fish.
"She has pretty good luck," he said. "She usually comes out and gets three of four fish and has a good time doing it."
Whether it is catching fish, spending time in nature or spending time with friends and family, everybody had their own reasons for attending the trout derby. 2nd Lt. Stephen Salassi, a student attending the Engineer Basic Officer Leader Course here, volunteered to help with the derby. He said he appreciates the sense of community at events like this.
"In Engineer BOLC, we have some community service that we do as part of our curriculum and fishing is something that has always been near and dear to my heart," he said. "I figured that if I was going to do some community service and give back to the community, I would do it in a way that I enjoy. Maybe I can help and influence and use my experience to make a positive contribution."
Salassi also recognized the importance of the post putting on such events for the community.
"Military families have so many unique challenges," he said. "Whether it's schools, deployments, temporary duty stations or anything along those lines that take us away from our families, anytime the base or the military gives us the chance to put the time back in with our families, it's absolutely worth taking."
KJ Petry, a forester with DPW and another event volunteer, called the derby a complete success.
"Seeing little kids catch their first fish, which we've had happen a couple of times today, is awesome," he said. "The kids are loving it. Every kid left with a smile."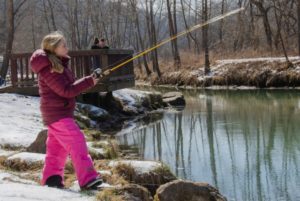 -30-
About Fort Leonard Wood
Fort Leonard Wood is a thriving and prosperous installation that has evolved from a small basic training post 80 years ago to a premier Army Center of Excellence that trains nearly 80,000 military and civilians each year.
Fort Leonard Wood is home to the U.S Army Maneuver Support Center of Excellence and three U.S. Army schools: the U.S. Army Engineer School; U.S. Army Chemical, Biological, Radiological and Nuclear School; and the U.S. Army Military Police School. In addition to training engineer, CBRN and military police specialties for the Army, Fort Leonard Wood also provides gender-integrated in-processing and Basic Combat Training for new Soldiers.
Fort Leonard Wood also hosts and trains with the largest Marine Corps Detachment and Air Force Squadron on any Army installation as well as a large Navy construction detachment.
More information about Fort Leonard Wood is at: https://home.army.mil/wood/index.php/about/mission