Maj. David Dunn
FORT LEONARD WOOD, Mo. (Aug. 4, 2020) — 102nd Training Division-Maneuver Support said farewell to Brig. Gen. Matthew Baker and welcomed Brig. Gen. James Kokaska during a change-of-command ceremony Aug. 1 in Lincoln Hall Auditorium.
Kokaska took command of a U.S. Army Reserve organization that includes skill sets such as engineers, military police, chemical, biological, radiological and nuclear defense, military intelligence, signal corps, civil affairs and psychological operations.
"Commanding an organization at any level is an honor and a privilege," he said. "I will make sure this unit is always ready and be humble and compassionate in my approach. I commend the great accomplishments of the unit and the leaders celebrated here today and look forward to the exciting times ahead."
Kokaska is a native of Chicago, Illinois. As a civilian, he is a central regional director for a Chicago area healthcare organization.
Baker has commanded the 102nd Training Division-MS since June 2019. He led the organization thru changes to ensure Soldiers were able to continue training in a COVID environment.
"The challenges to the brigade commanders … is figuring out how to get after it," Baker said. "We can't stop; we still have to train Soldiers."
The 102nd Training Division-MS is a generating force executing the U.S. Army Training and Doctrine Command foundational capabilities of building and improving readiness by providing mission-critical, combat-ready Soldiers to the Army and Joint Warfighter that are trained, competent, lethal and globally responsive to deter conflicts, protect national interests and win the nation's wars.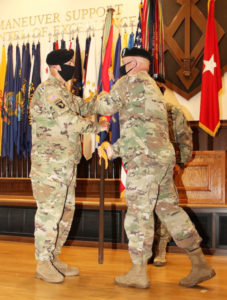 -30-
About Fort Leonard Wood
Fort Leonard Wood is a thriving and prosperous installation that has evolved from a small basic training post more than 75 years ago to a premier Army Center of Excellence that trains more than 80,000 military and civilians each year.
Fort Leonard Wood is home to the U.S Army Maneuver Support Center of Excellence and three U.S. Army schools: the U.S. Army Engineer School; U.S. Army Chemical, Biological, Radiological and Nuclear School; and the U.S. Army Military Police School. In addition to training engineer, CBRN and military police specialties for the Army, Fort Leonard Wood also provides gender-integrated in-processing and Basic Combat Training for new Soldiers.
Fort Leonard Wood also hosts and trains with the largest Marine Corps Detachment and Air Force Squadron on any Army installation as well as a large Navy construction detachment.
More information about Fort Leonard Wood is at: https://home.army.mil/wood/index.php/about/mission